Local Artwork on Display at 39-43 King Street
Local artwork now on display at 39-43 King Street courtesy of the Lords Feoffees.
Art student Amanda Harvey, pictured, (with deputy mayor, Cllr Jackie Foster, Principal Mike Welsh & tutor Joy Verda) was exhibiting one of many standout pieces as part of the final year of her level 3 art course and hopes to progress to a HNC in September.
Mandy is a student at East Riding College and has just achieved DD*D* on an Art & Design Extended Diploma Course.
"My final major piece of work was the dress, which took 170 hours to complete in total.  It was a huge amount of work.  It is looking at art history from old to new, is made of an old, water-damaged book and is even wearable!  I wanted to highlight the relevance of art history to young people and designers/artists today."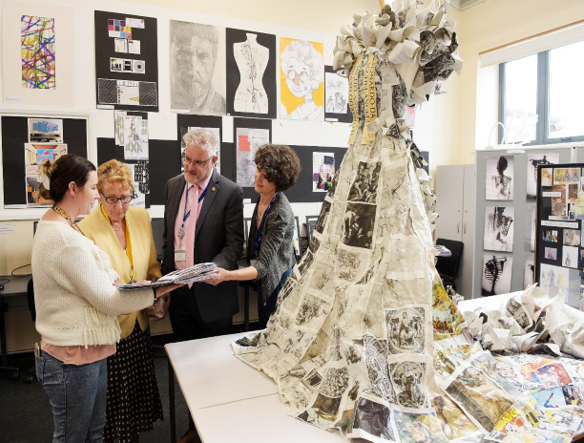 Picture by Simon Kench/ Bridlington Echo. To enquire about Art & Design Courses at East Riding College call 03451200044 or email joy.verda@eastridingcollege.ac.uk  To enquire about renting 39-43 King Street contact the Lords Feoffees office on 01262 674308.